SaniDry™ Sedona Dehumidifier
Crawl space humidity has been plaguing homes in New Jersey, across the United States, Canada, and the United Kingdom since the day the first one was built. Allowing humidity to go unchecked in the space leads to rotting floors and support beams, buckling floors, foul odors, flourishing mold, dust mites, rodents, small animals, and insect infestations. To make matters worse, the air in a crawl space is drawn into the rest of the house as warm air rises and exits through the upper levels, creating a vacuum below. To put it simply- if it's in the crawl space air, it will find its way into the upper levels of your home.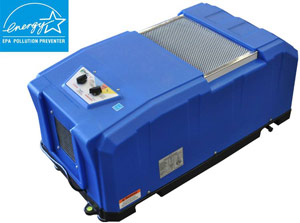 Quest Crawl Space Systems recognizes how serious this problem is, and they have responded with the SaniDry™ Sedona - the best crawlspace dehumidifier on the market! This ENERGY STAR® rated dehumidifier is powerful enough to take on the challenges of crawlspace humidity at about a third of the energy usage of the standard models sold in hardware stores, especially when paired with our CleanSpace® Crawl Space Vapor Barrier.
It includes a powerful 200cfm blower that will send the dry air circulating throughout the crawl space, and in time it can even dry out wood piers and sub floors. It is able to drain moisture out of your home automatically, with no need for a collection tray. A filter installed with each model will remove particles in the air as small as 2 microns - smaller than dust mite waste and most mold spores. Your air will be healthier than ever!
Contact Quest Crawl Space Systems for a free moisture control estimate in New Jersey.
Looking for a price? Get a no cost, no obligation free estimate.