Crawl Space Vent Covers and Doors, and Access Wells
When you make the decision to upgrade your crawl space and keep it dry, usable, and energy efficient, it's vital that you properly seal off all outside air. This means that not only should you install a plastic vapor barrier on the walls and floors-- you should also seal off all vents, doors, and openings in the area. Crawl space vent covers and airtight crawl space doors, made with materials that will not rust, rot, or corrode are the answer. And once you've sealed it off, wouldn't you like to access that space and use it for something more?
Crawl Space Vent Covers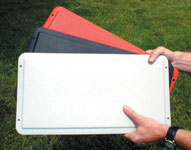 Quest Crawl Space Systems, building scientists, and the US Department of Energy agree that a vented crawl space in all climates- warm and cold- is a bad idea. Allowing hot summer air into the space will cause it to cool in the cooler crawlspace. As the air cools, its relative humidity will rise, and moisture will deposit on all surfaces in the New Jersey crawl space, allowing damaging mold to flourish and making the wood damp and perfect for termites.
In the winter, the cold air that enters will cool down pipes, furnaces, water heaters, heating ducts, and the floorboards above, creating a drain on utility bills and an uncomfortable surface to walk on above.
Crawl Space Doors
To be properly protected, it's important to seal the entire crawl space area. If the vents are sealed and a crawl space vapor barrier is installed-- but you still have your old, rotting, drafty crawl space door, then your space is not fully protected. And who wants a rotting, poorly-sealed crawl space door, anyways?
Be sure to install an airtight crawl space access door along with your vents, such as Basement Systems' EverLast™ Crawl Space Door. This all-plastic door will never rot, warp, or need paint.
It secures to the crawl space opening with four screwed knobs, with a layer of weather striping keeping it sealed off from outside air. It's the perfect compliment to your vent covers!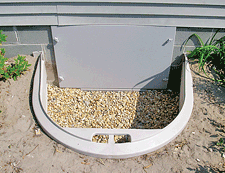 Crawl Space Access Wells
A sealed crawl space can become usable space for you! Once the crawl space is dry and has a thick, durable CleanSpace® liner installed, you can begin to use the space for storage of personal items. Keep your crawl space entrance attractive and clean with the EverLast™ Crawl Space Access well.
Our EverLast™ Crawl Space Access Well is large enough for you to use to crouch down and enter your crawl space. Its durability holds back soil, nicely adding to your yard's landscaping while providing the durability and strength you need for years of access.
Quest Crawl Space Systems addresses this problem by installing airtight crawlspace doors and crawl space vent covers. These, combined with the CleanSpace® vapor barrier, will turn the crawlspace into part of the housing envelope and keep outside moisture from intruding. Contact us for a free crawl space estimate in Newark, New Jersey.
Looking for a price? Get a no cost, no obligation free estimate.