Crawl Space Waterproofing in New Jersey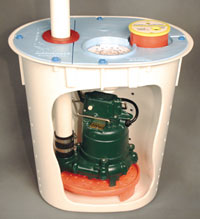 A vital part of keeping a crawl space dry is to make sure that crawl space flooding is addressed. Quest Crawl Space Systems of Jersey City, New Jersey is ready for the job, providing Basement Systems' SmartSump™ Crawl Space Drainage System.
This crawl space sump pump includes a heavy-duty sump pump liner and cast-iron 1/3 horsepower sump pump. A stand is installed at the bottom of each sump to keep the pump off the bottom of the liner and away from any residues, and a WaterWatch® alarm on top will warn the homeowner of any sump pump failures or plumbing leaks. A special ball-in-cup design allows the sump to drain away water leaks while remaining airtight and perfect for your crawl space needs.
The SmartSump™ crawl space sump pump also comes with an optional battery backup UltraSump® system. This backup sump pump is specially designed to run in the case of the primary sump pump failing, becoming overwhelmed, or losing power. The UltraSump® is able to pump out an amazing 11,500 gallons of water on a single charge- enough that you can sleep easy, knowing the space will be dry all the time!
Contact Quest Crawl Space Systems for a free moisture control estimate in New Jersey.
Looking for a price? Get a no cost, no obligation free estimate.