Crawl Space Jacks in New Jersey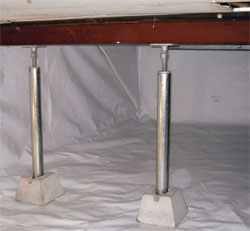 Structural problems in a New Jersey crawl space, such as settling columns, sagging beams, or fatigued floor joints are all common in a crawl space. Settling columns in a crawl space often occur because of the presence of weak supporting soils underneath that are unable to bear the weight and pressure transferred through the house.
Over time, these weak soils can begin to settle and shift with changes in soil density and moisture content. As the columns and beams move out of position, the floor above can sag and the house structure can weaken.
Sagging floor joists and beams can also be caused by improperly spaced crawl space pier columns. When placed too far apart, these beams can be overloaded, which causes bending and sagging.
Our coverage includes all of New Jersey, including Bridgeton, Cape May, Elizabeth, Lakewood, Millville, Newark, Paterson, Toms River, Trenton, and Willingboro.
Options for Crawl Space Repair
Ripping out and rebuilding the crawl space is not necessarily the best option for crawl space repair. There are many installations that can be done in about a day that will both reinforce the structure and possibly return the floor to its original position.
When the crawlspace begins to show fatigue, it's a good idea to act on it right away. Waiting can lead to more serious damage and more serious structural repair.
Concrete Columns and Additional Shimming
Some contractors will use concrete columns and shimming to create a system of solid, rigid support in the crawl space. However, these concrete columns are time-consuming to create, and it's necessary to wait while the concrete cures to continue work.
These columns will not be adjustable, and once installed, they cannot return the structure to its original position. The soil below the columns will continue to sink over time, and the homeowner will need to continually install new shims while the damage slowly continues to worsen.
Crawl Space Jacks

Crawl space jacks, such as the SmartJack® provided by Supportworks, are adjustable metal beams that are easily and cost-effectively installed in a crawlspace.
To install a crawl space jack, a hole is first created, and a solid base of engineered fill is established under the location of the jack. A pre-cast concrete base is placed on the fill, and the crawl space jack is mounted on top.
After installation, the system, can then be tightened and adjusted appropriately to secure the support and help to lift the floor beam above.
Crawl space support jacks work by transferring the load of a house from the beams and sending it downwards into the existing soils. They're stronger, cleaner, better, and faster to install than concrete beams-- and they're fully compatible with a crawl space encapsulation system.
For your free in-home inspection and crawl space support quote, call or contact Quest Crawl Space Systems of New Jersey today!
Crawl Space Jack Posts in New Jersey
Heavy-duty jack posts made with galvanized steel, such as the Supportworks SmartJack® Crawl Space Support System, are the strongest, most corrosion-resistant crawl space structural supports available in Newark, NJ and all other areas in NJ. The SmartJack® is able to hold well upwards of 50,000 lbs of weight per brace and is easily adjustable to restore a home's structure and property value. A base of engineered fill in installed under each support, and they are able to be installed with no need for additional shimming later.
Ideally, crawl space supports should be installed in an encapsulated crawl space that includes a crawl space moisture barrier and dehumidifier. By installing this vapor barrier and sealing all the vents, the wood of the sub floor and beams is best preserved, and the structure will best remain strong and ready to support your home. Contact Quest Crawl Space Systems for a Free Estimate on your crawl space foundation repair!
Looking for a price? Get a no cost, no obligation free estimate.