Repairing Termite Damage to New Jersey Homes
Before any repairs, be sure that all termites are exterminated and that you're protected from future infestations.
Quest Crawl Space Systems of New Jersey are your local experts on eliminating termites and rebuilding your home in New Jersey. If your home has been damaged by termites and needs services and repairs, call or e-mail us today!
We work in all areas of NJ, including Bridgeton, Cape May, Elizabeth, Lakewood, Millville, Newark, Paterson, Toms River, Trenton, Willingboro, and nearby. Call or e-mail us today for a Free Estimate!
Step 1: Stop Termites in your Home
Termites are the nation's most damaging wood-destroying pests. In fact, there is as much as two billion dollars in termite damages dealt to homes each year. If your home has a termite infestation, it's important to eliminate the threat as soon as possible.
Unless your home is inspected periodically, termite activity may go undetected for years, and serious termite damage takes approximately 3-8 years. Often, termite damage is only discovered during renovations, or when mud tubes are discovered on basement or crawl space walls. Other signs of termite damage may include the following three signs:
Wood that gives a "hollow" sound when tapped with a metal tool
Soft wood that is easily punctured with a knife or screwdriver.
A thin gritty gray-brown deposit covering damaged materials.
If you've discovered termites in your home due to swarming, this means that the insects infesting your home have a long-established colony there. Mature colonies can contain between 50,000 - 2,000,000 workers, and several colonies can exist on a single acre of land. Some species of termite queens can live 30-50 years! This is a menace that won't go away unless you go on the offensive.
Step 2: Prevent Future Termite Infestations
Termites often make their way into a home through infested firewood and other debris that has been laid too close to the structure.
Multiple termite colonies may not be infesting your home right now, and their presence means the possibility of future infestations.
Repairs to your home will be a moot point if the cycle of termite infestation and damage is not halted beforehand.
A termite control expert will recommend several things to help prevent termites in your area:
Use termite-resistant materials, such as redwood, cedar, and juniper, which are less favorable to termites.
Eliminate standing water and chronically moist soil near your home.
Install a crawl space moisture barrier.
Prune back plants close to your home to prevent moisture and mold growth on wood.
Fix all cracks and openings. Seal all wood exposed to moisture, especially exterior window frames and the bottom of wall edges.
Move all mulch, wood scraps, and debris away from your foundation.
Dig up tree stumps and remove and dead trees from your yard.
More importantly, treat existing wood with a borate-based treatment. This will kill any termites attempting to eat your wood, protecting your home for many years to come. Non-repellent soil treatments may also be recommended.
Step 3: Rebuild Wood Damaged by Termites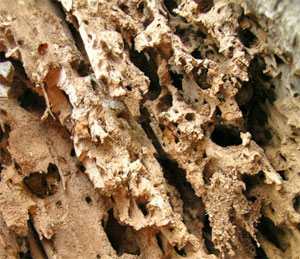 Some of the wood damaged by termites supports the weight of your home. A professional should be consulted for all repair work.
Only when the termites have been eliminated-- and your home is protected from future invasions-- should termite damage be repaired in your home.
If the damaged wood in your home is not visible, does not carry utilities, and does not carry a structural load, you may choose not to replace the damaged wood. Instead, it may be possible to install new wood next to the damaged wood-- which will often be a practiced and code-complaint method of repair.
In other situations, removing all damaged wood and rebuilding the damaged are is the most practical, cost-effective solution for repairing the structure. Removing and repairing the wood may also allow for the opportunity to remodel the space. In this way, your termite repair can become a good reason to upgrade your home.
Safety should always be kept in mind when repairing any termite damage in your home. Some of the wood in your home that is damaged by termites may be supporting the structure itself, even in its weakened state. Proper supports and reinforcements should always be taken into consideration, and extreme caution should be taken in these cases. A professional should be consulted for all wood destroying insect damage repairs to ensure proper safety.
Contacting your Local Termite Control & Damage Repair Experts
Quest Crawl Space Systems of New Jersey is your local expert in eliminating termites and repairing the structural damage they have done to your home. If you would like a free, no-obligation termite damage repair quote, call or e-mail us today!
Pest Control Estimate
Schedule A Free Estimate
We work throughout NJ, including Bridgeton, Cape May, Elizabeth, Lakewood, Millville, Newark, Paterson, Toms River, Trenton, Willingboro, and nearby.
Looking for a price? Get a no cost, no obligation free estimate.